by Chris Shashaty, Phins.com Columnist
On a periodic basis between now and the 2005 NFL Draft, I will take an in-depth look at the Dolphins. This week: Wide Receivers and Tight Ends
Wide Receiver:
Current State: Unrealized potential. That's the best way to describe Miami's current corps of wide receivers. Under the Dave Wannstedt regime, the heavy balance towards the ground game and conservative playcalling seriously undermined the ability of this talented group of players.
Purely on paper, Chris Chambers' 2004 numbers don't overly impress: 69 receptions, 889 yards, 7 touchdowns. However, there is a reason why the conservatively spending Dolphins signed him to a five year contract worth a reported $30 million, including a $12 million signing bonus: the guy can flat out play. Chambers possesses the physical size and speed to be a legitimate gamebreaker. Strangely, Chambers' game has thus far seemed suited to that of a possession receiver. While it may just be a consequence of Wannstedt's offensive philosophy, or a real reflection of his talent as a pro, week-over-week consistency continues to be the key for Chambers if he wants to be regarded with the league's elite. The arrival of new offensive coordinator Scott Linehan and his more wide-open philosophy figures to inject some serious explosiveness into Chambers' game. If it doesn't, people will begin to wonder if Chambers will ever be more than he is now.
Opposite Chambers, a more accomplished Marty Booker turned in a modest 50 catch, 638 yard effort with just 1 touchdown. In fairness to Booker, 2004 was a confusing and frustrating affair as he endured an unexpected change in cities and offensive philosophies. The team's 4-12 record certainly didn't help matters. Booker should be a lot better in 2005 with a full offseason under his belt. He has fantastic hands and is one of the best route runners you will ever see. League insiders have a great deal of respect for his talents. Even publicly, Booker has already proven his abilities as a Pro Bowl receiver when he grabbed 97 catches for 1,189 yards and six touchdowns in 2002. Linehan's system should fit Booker's skills extremely well.
After suffering through a very forgettable 2003 campaign, Derrius Thompson rebounded during the second half of 2004 to produce respectable numbers as a #3 WR with 23 catches for 359 yards and 4 touchdowns. His biggest catch was, of course, the game winner against the Patriots on Monday Night Football. On fourth down, with just 1:29 to play in the game, Thompson caught a clutch 21-yard TD pass over the top of old Dolphin-killer Troy Brown. Perhaps the Dolphin Play of the Year, it was a snapshot of what the team thought they'd be getting on a consistent basis when they signed him away from the Redskins two years ago. Thompson has been a tough player to figure out and, quite frankly, has mostly been a disappointment. Blessed with the size and physical skills to dominate defensive backs in close spaces, Thompson should be producing more than he has. It will be interesting to see how he does in Linehan's offense. More to the point, one wonders how much patience Nick Saban will have with him.
Speedster Bryan Gilmore ended up being a decent pick-up for the Dolphins, collecting 15 catches for 206 yards and 1 touchdown. Acquired off waivers from the Arizona Cardinals in 2004, Gilmore has a chance to show more in 2005 as his skills are better suited to a more wide open offense like Linehan's.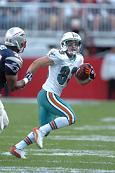 Wes Welker became a something of a cult figure with the fans through his versatility and exciting play on special teams. A pure football player, Welker became the first man in NFL history since the Super Bowl era began in 1966 to kick off, return both a kickoff and a punt, kick a field goal, and kick a point-after-attempt all in the same game (October 10 @ New England).  Welker finished the season ranked second in the AFC and fifth in the NFL in punt returns (10.8 yard average) and was seventh in the AFC in kickoff returns (23.0 yard average). In the season finale against the Ravens, Welker returned a kickoff 95 yards for a touchdown. It was the first kickoff return for a touchdown by a Dolphin since October 1, 1989 when Marc Logan (remember him?) ripped off a 97-yarder against the Houston Oilers.
Kendall Newson, Ron Bellamy, and Maurice Mann round out the roster. All will be fighting for jobs, with versatility on special teams being an important consideration. Newson and Bellamy are Dolphin veterans.
Strengths: Solid starters in Chambers and Booker. Both men's games compliment each other quite well, though Booker may be the team's best receiver at this time. Welker's versatility and skill are a huge plus.
Weaknesses: Questionable depth. Lack of a proven gamebreaker.
Offseason Priority: High. Given the lack of quality depth and a proven homerun hitter, the Dolphins must give serious consideration to upgrading this position. Do not be surprised if the Dolphins draft either Braylon Edwards or Mike Williams with the #2 overall pick. Yes, running back is a greater positional need. However, the best offensive playmakers in this draft may be Edwards and Williams. Together with Chambers, Booker, and TE Randy McMichael, Edwards or Williams would create very serious match-up problems for opposing defenses and give the Dolphins their best corps of receivers since the triumvirate of Mark Clayton, Mark Duper, and Nat Moore.
Tight End:
CurrentState: The Dolphins are in good shape at the tight end position with starter Randy McMichael and reserves Donald Lee and Ed Perry.
"Randy Mac" had by far his best season as pro, leading the team with 73 receptions for 791 yards and 4 touchdowns. He set a single season team record for the most receptions and yards by a tight end. Considering the list of outstanding tight ends in Dolphin history, this is an impressive achievement. Give credit to McMichael's improved blocking as well, something he has focused on since coming into the league three years ago. In Linehan's offensive system, McMichael figures to only get better in 2005.
An almost physical clone of McMichael in terms of height and weight, Donald Lee has turned out to be quite a find for a fifth round draft pick (2003). Lee's true value to the team is as a hard-nosed blocker. Though he only caught 13 passes for 110 yards and 1 touchdown, Lee demonstrated some upside as a receiving threat. This will be an important offseason for him in terms of his development.
Veteran Ed Perry is the team's resident barber, famous for giving rookies their horrible haircuts. Perry has become so valuable to the team as a long snapper, he no longer sees duty on offense. Perry admits that he'd like to see some offensive snaps as he proved early in his career that he could make a decent contribution in that regard. However, given how much teams value an excellent long snapper, Perry's days as a true tight end are all but over.
An interesting bit of trivia on Perry: With the departure of FB Rob Konrad, Perry is the last active player on the Dolphin roster to have caught a pass from Dan Marino.
Strengths: McMichael's skills as a receiver and blocker make him one of the best all-around tight ends in the NFL. He is the team's top offensive player at the present time. Lee is a solid reserve. Perry is one of the best long snappers in the league.
Weaknesses: Lack of discipline. McMichael and Lee often committed frustrating and stupid penalties at the most inopportune times. Nick Saban won't stand for that.
Offseason Priority: Low. While acquiring an upgrade to the undisciplined Lee would be nice, the Dolphins have too many other pressing needs at the present time.
---
Advertisement
<![if !supportEmptyParas]> <![endif]>